A "CRACKING" WAY TO GET TO LANDS END (or the view from the bouncer's seat on the 1995 Lands End Trial) by Pat Toulmin
Not just a bouncer's view this time – I ended up as a mechanic as well ! How? You would think that beginning to 'prep' the car (TJ 5000 Jonathan's father's 1935 Cream Cracker MG PA Midget) in the Autumn of 1994 would be sufficient, especially as it was it excellent condition and running. However it was not up to trials standard, so – the front axle went to be straightened, the supercharger needed checking, new TC wheels and Michelin crossply tyres were ordered, the rear axle was sent away for straight cut gears, the engine went for a rebuild, the clutch was slipping so major work was required, aero screens needed to be made, some respraying and sign-writing was required, and we felt it was prudent to fit an alternator!
We had entered the 1995 Lands End in the MG rather than the Marlin as it was the 60th anniversary of the debut of the first ever MG Works Cream Cracker team, led by Jonathan's father in TJ5000, so everything had to be 'just so'. Jonathan also managed to persuade the owners of five other Cream Crackers to take part and two teams were entered, as follows:
CREAM CRACKERS TEAM A
Jonathan & Pat Toulmin PA TJ 5000 (Maurice Toulmin's 1935 car)
Alan Grassam & Tim Miller PA JB 3854 (Jack Bastock's 1935 car)
Ian & Jonathan Williamson PB JB 7521 (Maurice Toulmin's 1936 car)
CREAM CRACKERS TEAM B
John & Graham Bishop PB JB 7525 (John Jones' 1936 car)
Ken Selby & Dave Brown TA ABL 964 (John Jones' 1937 car)
Derek & Penny Pearce TA BBL 80 (John Jones' 1938 car)
There are only eight of the twelve Cream Crackers still known to exist.
But back to the preparation – on a 60 year old vehicle it appears nothing is simple or straightforward – the new tyres didn't want to fit the new wheels (despite being the same size), there were layers of old paint which affected the respray, the new clutch slipped within 30 miles of use, the perspex for the new screens was at first too thick and then too thin, but mostly the problem was that every job took three times as long. The engine was also delayed, so the car was still in pieces two weeks before the event. In the last week the gearbox came out 4 times to fix problems, including the fitting of a newly engineered clutch (which Borg & Beck did for us in 6 hours) – the last time was on Maunday Thursday after the car had been loaded into the trailer!! This is when I felt I had to don gardening clothes, get my hands oily and learn how to take a car apart.
However the oil leak was fixed very quickly – I guess the car had got the idea of coming apart and back again by then – and we joined the start at Exeter. All the other Crackers duly arrived and Jonathan's brother was there to record the event on video. Because of the combined age of the six cars we had opted for an early start and it was interesting to set out in daylight. We are very grateful to the MCC for allowing us to run together – it must have been quite a sight. Scrutineering at Tintinhull and the first of three breakfasts went well as did Sugg Lane and Felons Oak. At Minehead (second breakfast) Jonathan tried to mend the reading light that that had just failed, but we had a real panic just after leaving the time control. There was a smell of burning rubber, which Jonathan immediately traced to the supercharger jockey wheel – it had seized. Luckily the insertion of grease did the trick. For a few moments we thought our trial was over almost before it had begun.
Next came a long haul over the moors, along very narrow twisty lanes, and this was not helped by thick fog. As navigator of the leading Cream Cracker I was very concious that I could get all six of us lost in the middle of nowhere with little or no visibility and they would not have been at all pleased. I managed (I'm sure the other passengers were checking anyway) and our alternator really scored – while Alan Grassam's lights started to go yellowish ours had all 6 cars (+ a few other MGs ) following! We arrived at the garage at the bottom of Beggars Roost, only to find that we had lost John Bishop in JB 7525 because of total lights failure. He had been left in the capable hands of the Tamar Trio, so we attempted the Roost.
This was where we thought the hills really began and the first test of the Cracker. We both felt that there was a reputation to uphold – Cream Crackers aren't supposed to fail sections, but times have changed and the hills are much rougher, the car much older (and much less powerful than the Marlin) and Jonathan had no experience of driving the car off road. We also had a 60 year old jinx to beat – Maurice failed the Roost in 1935, due to being the first car to attempt the section which had a covering of new loose stones. He must have been very disappointed as he was the only driver in contention for a Triple Triple!! But luckily this year the car climbed with no difficulty and we began to get a little more confident.
For us Darracott was the next challenge – the Cracker seemed to have very little steering lock – would Jonathan be able to get it round the hairpins? Ed Oke was at his usual photography spot and waved us on our way. Darracott was climbed at good speed, as was Cutliff Lane (I feel sure it would have been a different story if conditions were like last year). To our great joy John Bishop caught us up at the Widemouth Bay time check with seconds to spare! John Smithies, who, along with his sister, had been bought JB 7525 in 1937, was there to greet his car, but unfortunately there was only time for a brief hello before we all set off in convoy again. (the two Johns had a proper get together at the Cracker reunion at Rodborough two weeks later)
We managed to persuade the marshall at the hold control at Crackington to let us be a batch of six, so we all arrived together at the bottom of the hill. The message had got to the crowd that 'the Crackers are coming!' We had been warned that the locals had been up to their usual tricks and the top of the hill was very sticky. As lead car we felt a responsibility to set a good example, especially so as Jonathan's brother Michael was there with his video camera. Jonathan and TJ set off at a 'cracking' speed, I began bouncing just before the slimy bit and with a great deal of determination we got through – it really was team work -car, driver and bouncer. The relief and joy at the top was tremendous. But Crackington had its own back and three of the six Crackers failed. The video of Jonathan and I proved to be a little different – unfortunately Michael fell over trying to run up after us (to the delight of the crowd) and got some wonderful shots of the mud. However he did get some excellent footage of Ian Williamson in JB 7521.
And so on to the third breakfast at Starapark.This is where Steve Dear in one of the following pre war MGs unfortunately had to retire with a blown head gasket. It was almost to the delight of wife Madeline, who usually stays at home – she was really feeing the cold of the mist, despite her sleeping bag, and a low loader sounded like heaven. Next came Warleggan – we were not so much worried about not climbing this one but were very worried about the car, as the hill is incredibly rough – so much that we cringed even in the Marlin last year at all the crashing and banging from below. At the start of the trial John West assured us that lots of work had been done on this hill and he was not wrong. The bottom half was much better, but the top was still horrendous – so much so that our usual team mate Tony Branson of DAF fame, who was running immediately ahead of us, when he saw our long faces at the top thought we had failed. We hadn't, but we felt so sorry for the car. Luckily it survived and so on to Blue Hills. (Unfortunately Warleggan caught out two of the Crackers).
The sun had come out by now and the sea, the hills and the surrounding area looked beautiful. Still in convoy the six Crackers looked great and were much photographed on the approach to the 2 sections – so much so I wondered if we should charge royalties! There is always a good crowd here, but it seemed larger than ever. We led off as usual and the loop of Blue Hills 1 was conquered. As for the steep Blue Hills 2 I think Jonathan had put his other hat on and thought that he was at Shelsley Walsh – they should have timed his climb. I immediately jumped out at the top to watch the others. I could hear lots of comments in the crowd along the lines of 'aren't they going well!' and indeed all stormed up.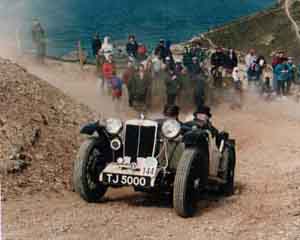 By now our confidence was running high, albeit with all fingers crossed and amazement at the fact we had got so far and were still clean. Perhaps we were over confident because at Old Stoney we almost met our waterloo (no pun intended!) – Jonathan did not give it enough revs on the start line and he had to clutch slip all the way up – it had seemed so easy last year in the Marlin. Incidentally Ian Williamson had similar trouble, but he also managed to struggle up. Trescowe Lane held no horror at all so it was on to Lands End.
We were aware that we were tight on time, but not too tight, however we had not allowed for the queue of ordinary cars trying to get into the Lands End complex. I spoke to the driver of a VW Caravanette and persauded him to let us (and the others!) through and Cream Crackers 1 finished with 3 minutes to spare. That only left the special test – Jonathan took it extremely carefully just to make sure. All the Crackers completed this test but it was a great shame that Gerald Burridge broke his halfshaft and lost his gold – he and six other pre war MGs had been running behind us throughout the trial. He didn't have a spare halfshaft with the correct thread, so we lent him ours – shortly he and Trish drove through the test again complete with a beer and a gin & tonic to the cheers of the crowd!
Then it was back to Penzance to the Union Hotel, which was found by Tony Branson a few years ago and has a large covered and locked garage. It was very interesting when we found out in February that at least one of the Crackers had been there in 1936 – John Jones addressed a letter to the Works from the hotel, so it is highly likely that the others were there as well. All six Crackers (and Gerald's car) looked very comfortable there. I had arranged a celebration dinner, at which we were joined by a few others including Alan Foster and our usual Brace & Belts team members (Tony Branson and David Spraggett). The dinner was excellent and was indeed a celebration – our greatest wish at the beginning of the trial was that all six Crackers would finish, but it was beyond our wildest dreams for all six to gain an award! In the end there were 3 gold and 3 bronze (is it significant that the three ACTC drivers gained the golds?). I realise the conditions were very favourable, but perhaps someone was helping from above?
My other lasting memory of this trial is the great camaradarie that existed within the teams and others around us. Penny Pearce commented how good it was to run together in teams and I wholly agree with her. We had a great time!