A Taste of Cheshire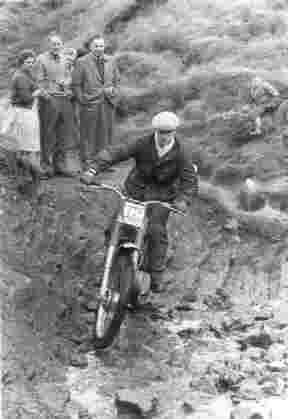 This article first appeared in "Offroad Review' in 1999. It is reproduced with the kind permission of Bob Light and Ian Williamson. Bob interviews Ian about his motorcycle trialling and, in particular, trials in Cheshire.
So here was a chance to have a look at trials in a territory that we have not featured much up to now, and there is a memory too of the works AMC-powered 250 Francis-Barnett trials machine which Ian campaigned. The years have not dealt kindly with this particular model. Ian liked it, and he will tell us why.
* * * * * *
Funny things, frontiers. Some you can slip through unnoticed, while others provide a cultural and physical barrier, and some are watched over by guarding dragons! The Cheshire Centre takes in the county itself and extends westwards into North Wales, East into Derbvshire and South into Shropshire. This is a landscape of great variety, of moors and hills, plains and grand houses, where you will find the latest technology hard by the work of our industrial pioneers. It stretches from Manchester down to Buxton, then across to Congleton, Winsford, Nantwich, Oswestry and into Wales at Mold and Wrexham. From Hawks Nest to Halkyn Mountain, and from Picton to Pontfadog, trials prospered as they spread into the hills of North Wales and south into the Shropshire Border country round Oswestry.
Back in 1920 the North-Western Centre was the first of the ACU Centres to be formed and covered Lancashire and Cheshire. After a few months the clubs in the southern part of this area decided to form their own group, and the Cheshire Centre came into being early in 1922, with seven founding clubs. These were Liverpool, North Cheshire, Chester, Warrington, Widnes, Prescot and District and the J B Liverpool club. Centre Secretary Tommy Sandland from Widnes took office in 1923, and did the job for some 35 years. Tommy's early motor cycling was with a 1911 single gear Indian outfit with a wicker sidecar and he was known for the help he gave to new clubs as the Centre grew stronger.through unnoticed, while others provide a cultural and physical barrier, and some are watched over by guarding dragons! The Cheshire Centre takes in the county itself and extends westwards into North Wales, East into Derbvshire and South into Shropshire. This is a landscape of great variety, of moors and hills, plains and grand houses, where you will find the latest technology hard by the work of our industrial pioneers. It stretches from Manchester down to Buxton, then across to Congleton, Winsford, Nantwich, Oswestry and into Wales at Mold and Wrexham. From Hawks Nest to Halkyn Mountain, and from Picton to Pontfadog, trials prospered as they spread into the hills of North Wales and south into the Shropshire Border country round Oswestry.
In lan's time the main motor cycle clubs organising trials were Chester, Runcorn, South Liverpool, Wirral 100, Broughton-Bretton, Crewe and South Cbeshire, Nantwich, Winsford, Congleton, Manchester '17' and Manchester Eagle, plus Whitchurch, Wrexham and Oswestry.
Tommy Sandland could possibly have been there when the Reliance trial was first held in 19II. It was a two-day event and organised by the Liverpool Auto-Cycle Club, one of the oldest clubs in the country, as it was founded in 1902, The national governing body (then the Auto Cycle Club which later became the ACU) promptly banned the trial and threatened to suspend any rider taking part, on the grounds that events of more than one day were run by the ACC and no-one else. After much discussion between clubs and the ACC, the result was the system of ACU permits which has existed ever since.
Day I in that first Reliance started at Ledsham near Ellesmere Port, then went through Queensferry, Mold, Ruthin, Cerrigydruidion, Denbigh, and back through Mold to Ledsham. On day 2 the riders started from Birkenhead, then through Chester, Rossett, across the Llandegla moors to Mold, over the Halkyn mountains to St. Asaph and then back to Birkenhead; all on single-speed machines, very poor roads and 195 miles in total.The Reliance was one of the major Nationals in a crowded calendar in pre-war years. When David Tye (BSA) won it in 1949, it was his first big trials victory, but in the fifties the number of competitors dropped close to the thirty mark, and it lost its National status. Chester clubmen joined forces with the Liverpool Motor Club to run it as a Regional Restricted, and in 1960 the winner was Len Eyre, who had earned Expert status in the Cheshire Centre as long ago as 1935!
Another Merseyside Club to make good use of the Welsh hills was South Liverpool who organised the National Lomax trial (named after their former Club secretary) and based around the Glyn Ceiriog valley near Chirk. The story goes that the route marking party would take Sunday papers with them into the Welsh hills for the farmers – their normal Sunday deliveries in those days were on the Monday.The trial soon became an Easter favourite and the first National Lomax in 1951 was significant for more than one reason. For the winner was 16 year-old Jeff Smith, taking his first National premier award riding the Norton 500T that his father had bought new in September 1949. Cheshire's Peter Wraith (possibly with Hugh Breland in the chair?) was best sidecar.By this time the Chester Club's Northern Experts trial was firmly established, starting from Brierlow Bar, south of Buxton. It visited Snaygill in Yorkshire and then North Wales, before moving back to Buxton in 1961, and the first big win for 17 year-old Mick Andrews.
Head northwards from Cheshire across the River Mersey and you are in the North-Western Centre. This is the home of Jeff Smith (born in Colne in Lancashire – his family moved to the Midlands when he was three) and the home of Ogdens, Cleggs, Sandifords, Eric Adcock and many more. The Lancashire Grand National and the Red Rose trial, for example, will doubtless give more good stories for another day. However the North Western and Cheshire Centres were friendly neighbours, and riders moved easily between the two. Ian is a Manchester man, from Prestwich about four miles north of the City Centre, and in the Inter-Centre trial he pitched in for Cheshire and the North West at different times.
"I bought a new 250 side-valve BSA in 1954 and rode it to school every day. The first trial I saw was at Helsby Hill near Frodsham, probably a Runcorn Club event, and I was hooked. I then went to watch National trials like the Bemrose and the Allan Jefferies, and immersed myself in the weekly reports. There was a great thrill in watching 'stars' like Jim Alves and Gordon Jackson. While I was still at school, I swapped the BSA for a 197 DOT – without telling my parents! The DOT had Metal Profiles forks and was very battered, and I soon realised I would have to get something better if I was to compete. So with dad's help I acquired a rigid 197 four-speed Francis-Barnett; it really was very good. I won best Novice first time out at a Manchester Eagle Club trial at Pott Shrigley. Manchester 17 was the main local trials club then, but as I started with the Eagle, I tended to stay with them. I kept the FB for a year, riding at North Western Centre venues like Parbold Quarries near Wigan, or Rooley Moor near Bury – there was a section there where you rode through an old ruined pub – Foxes Den at Ashton-Under-Lyne and others. "However I always loved the moors in the Peak District around Buxton, Leek and Macclesfield, with all the famous old sections – Cheeks, Washgates, Hawks Nest, Manor Steps and Hollinsclough. I then wanted a spring frame, so in 1956 I bought a 197 James Commando and spent all my spare time practising. The Cheshire Centre was a competitive area then with many good riders. Johnny Roberts was the same age as me, there was Doug Chadwick, Graham Darlington, Doug Crennell, Mike Fitzimmons, Cliff Karle, Cyril Kenny, Geoff Brassington, Ray Lomas, Ted Manchester, Jack Matthews, Mick Bowers, Eric Sellars (he had a motor cycle shop in Stalybridge), Ian Shennan and John Hartle. Later on, in the early 1960s, there was also Dave Rowland and Mick Andrews."
Eric Adcock was well established as the top Cheshire rider then, and very much the man to beat, winning the Cheshire Championship Trial a total of seven times. lan's career also tracked that of three sons of expert riders, Jimmy Sandiford (son of 'Big Jim'), Norman Eyre (son of Len) and David Clegg (son of Cliff). Not that the previous generation had by now retired, far from it, as they were still riding and winning. Jimmy came down to ride in the Cheshire Centre quite frequently, but David Clegg, Derek Brookes and Stan Cordingley did so very rarely. Norman Eyre lived in Buxton, so he was a Cheshire regular.
One of lan's best early outings on the James was probably the North Western Centre Team Trial on April 22nd 1956 in the Accrington area, when he was still 17. "I was in the Bury Club's A team with Jeff Brown, Doug Chadwick and Jack Carr (who was the individual winner), and we won. Jeff was a great rider, he could win anything. He had a 500 Triumph, but he never cleaned his bike or his riding gear. He would just turn up, put some oil on the chain, and off he would go!"
The Manx Two Day Trial was well supported by mainland competitors. First run in 1955 when Artie Ratcliffe (350 Matchless) won it, the trial came about following a suggestion from Angus Herbert and 'Motor Cycling' Editor Bob Holliday at a Peveril MCC function that an island event would be popular with visiting riders. The 1956 entry of 112 was more than double the first year, and the Bury teamsters were very much in the hunt. Doug Chadwick won it, followed by Jeff Brown (6th), Ian (12th) and Jack Carr (14th).
Ian started his National Service in 1957 with the Royal Signals. "You were likely to find yourself abroad or doing something completely irrelevant. I therefore contrived to join No. 5 Training Regiment at Ripon, (where Tom Ellis had his shop), and I remember arriving on the square in the back of a 4-ton truck in thick mist, just two of us, that week's intake. Ripon was the Royal Signals Motor Transport School and also the home of the White Helmets. This tall lanky figure emerged out of the mist, with DR coat, very muddy boots, chalk mark for his rank – it turned out to be Peter Fletcher! I went to bed that night in a 'spider', a six wing wooden hut, and I had not seen any daylight. The following morning, feeling pretty miserable. I looked out of the window and there parked up were Arthur Lampkin's works BSA and Peter Fletcher's works Enfield, two factory bikes! Misery to paradise in less than two minutes! I joined the Royal Signals Display Team (the White Helmets) in 1958 and we went to shows and events all over the country, doing displays with Triumph TRW twins. At the Bath Searchlight Tattoo I crashed in front of about 5,000 people, the jump ramp had got wet during the display and I took off sideways! "The aim then was to ride for your unit in the Army Championships trial, and in 1958 the entries included Pat Brittain, Arthur Lampkin, Bob Hart (the works James man), and a number of other very capable trials riders from Ripon, like Roger Wooldridge from Launceston and Alan Futers from Darlington. Doug Theobald from Bury St. Edmunds was in the Royal Artillery and was based at Kinmel Park Camp, Rhyl, for a time, so he rode in Cheshire Centre events on weekends off "
Ian replaced the James with a 350 Ariel HT3, and successes followed. He was best of 146 starters in the Broughton-Bretton Club's Westminster Cup trial ahead of Jim Sandiford, Eric Adcock and Muff Morris. Muff was one of the three Morris brothers from the Denbigh area, the others being Roy and Brian. They were very successful in North Wales based Cheshire Centre events, but rarely ventured as far as the Peak District. Ian was then second to Eric Adcock (and best 350) in the 1959 Reliance trial. He also won the Wirral 100 Club's December trial based on Rhydymwyn near Mold.
"The Ariel was one of the best production trials bikes at the time. I tried a 500, but it was too much of a handful, while the 350 seemed to suit me and felt controllable. One rather special event in the 1950s was the Chester Motor Club's Picton trial, a 10 lap time and observation trial round a triangular course of three muddy lanes. There were dozens of mud holes and at the finish the riders looked as though they had been mud-wrestling not trials riding! The Winsford Club also had some prime mud and stream-bed going around Delamere Forest, half-way between Manchester and Chester. Further south, we rode in the Nantwich Club trials starting from Alpraham, near Tarporley, and the Whitchurch Club's events starting at Grindley Brook – all good trials, but a more 'nadgery', with sandstone and sandpits in the Peckforton Hills and similar going. "Going into Wales at that time there could be massive traffic jams at Connah's Quay and Queensferry on the way to trials in the Welsh hills round Llangollen, Chirk, Wrexham, and Pontfadog (for the Lomax), but, in the days before pick-up trucks, we could ride round the jams."
Francis-Barnett introduced their new 250 AMC-powered roadster at the end of 1956, followed by the competition models early in 1958. AMC policy in commissioning the Italian Luigi Piatti to design the range of single-cylinder two-strokes meant that the long-standing relationship between FB and Villiers was ended, to the ultimate disadvantage of both companies. It is probably fair to say that this engine has not had a good press over the last forty years, and the new FB 250 trials machine did not sell in great numbers. As well as our Northern squad, in the next four years riders included long-time FB experts Arthur Shutt (his April 1958 Lomax win was the first National victory for the new machine) and George Fisher. Experienced works AMC four-stroke trialler Sid Wicken rode one in the FB team for the 1959 Scottish, but retired soon after, and new recruits included South Midland experts John Lee, Bill Faulkner and Jackie Rees. Midlander Scott Ellis tried one before going back to his Ariel. Ian again. "Jimmy Sandiford had a works Francis-Barnett for the 1960 Colmore, and Barnetts were then checking round for any other riders worth supporting. They came up with my name – I'll never know why! I went down to the factory in Lower Ford Street in Coventry and met George Denton, he was a real gentleman. It was quite a heavy bike, and lacked enough power to lift the front wheel cleanly, but with those Norton forks it steered beautifully, and it would always go where you wanted it to go. it was good on rocks, very good, and it was reliable. Perhaps it was more suited to the northern going than the southern sections. Yes, the engine was wide, so we later cut the chaincase back on one side. It lacked real urge and had a very flat power curve, and not many people liked them, but a works ride was a works ride. I was very pleased."
Ian won the Cheshire Centre Championship Trial on the Barnett and the overall Centre Trials Championship in 1961 and did all the trade-supported national trials, from the West Of England up to the Cleveland and the Travers. He also joined up with David Clegg and Jimmy Sandiford to form a very effective Bury Club team. For a spell all three rode FBs, a fist of Francis-Barnetts often wresting the Club Team awards from powerful opposition. Though they came close several times, that sought after National Premier still eluded them on the Coventry machines.
One of lan's first Nationals on the FB was the 1960 Wye Valley Traders, won by Bill Martin in a rare National victory for James with their AMC-powered trials model, Bill was the only rider to master the long rock-filled gully that formed the opening hazard at Hill Lane. However lan's effort was noticed and one press report read. 'Other aces managed to get up …. but none so prettily as Ian Williamson, the new member of the Francis-Barnett team. Although he had to get his feet down in the third section, he showed all the style of a true master'. "Don't print that!" he told me. But then, he's a modest chap.
After Jimmy Sandiford turned to BSA, the Bury squad kept on winning. In one weekend they took the team award in the Mitchell in South Wales on the Saturday, and the Greensmith in Shropshire on the way home on Sunday. When David Clegg moved to Greeves at the end of 1961, his place in the FB team was taken by Johnny Roberts. Ian again. "I wrecked David Clegg's Francis-Barnett once. it had just come back from the factory, and mine was still at Coventry, so he let me have it for the Manchester Eagle Club's Charles Markham trial at Buxton. I was going downhill about 200 yards from the finish, and this Morris 1000 did not see me in the Buxton mist, and turned right in front of me! I had no option and hit it square on, and was thrown over the bars and over the Morris Minor on to the main A53, Buxton-Leek road. There was only about two feet of grass between the edge of the road and a jagged stone wall, and I landed on the grass, somersaulted twice and stood up without a scratch. But the bike had been ripped apart at the headstock…….."
lan's first Scottish was in 1960 when he was in the FB team with Jimmy Sandiford and Jackie Rees. He was best of the three with a Special First, and was actually third best newcomer (no trophy for that!) behind Stan Cordingley and Terry Body. However the 1961 Scottish still holds unhappy memories. "I was having a good ride and by Wednesday evening I was on the leaderboard in tenth place, and I had only lost 15 marks. However as I came into Fort Augustus that afternoon, there was a police car parked in a hidden lay-by, deliberately aiming to catch some riders for speeding, and they caught three of us. The rules are quite clear, and being reported by the police to the organisers was enough, though I don't think I was ever prosecuted. I rode through Thursday, but I was pretty sure that I would be excluded and I was. They wanted to set an example and it worked. I was doing well, I was in a works team, and I was absolutely mortified. I didn't get over it for months! Arthur Brown (150 Triumph) and Ted Wratten (350 Matchless) suffered the same fate." A year later and it was a very different story. Francis-Barnett fitted iron-barrel 32A Villiers engines into the works bikes ready for Scotland, when new recruit Mick Ransom teamed with Ian and Johnny Roberts.
In a shakedown outing at the 1962 Reliance, it was a clean sweep with Mick winning, Ian second and Johnny Roberts third. In Scotland Mick was third overall and the three were the best of the lightweight teams, but it had come too late. That year the FB operation moved to the James factory in Greet, the proverbial writing was on the wall, and lan's bike went back. James continued in trials with familiar Coventry registration plates on some machines, and Ian bought a Greeves TES.
"It had much more power and I was very comfortable with it, winning three trials in the bike's first five weeks. In the 1964 St. David's trial I was tenth, but the final results included serious time penalties, and I was actually third or fourth on observation. Sammy Miller was the only one who realised what was going on, and he rushed on to the finish so he had no time penalties. He had fathomed it all out, as usual."
One more Scottish in 1965 on a Greeves TFS "Nice bike that"- completes the picture. Work in the oil industry meant going to live overseas. "Mobil asked if I would go to Ghana, and I later became Mobil's Manager for Chemicals in West Africa before moving to New York. I was out of the UK from 1964 to 1972 and when I came back I joined the Territorial Army, ending up as a Lieutenant-Colonel in the Royal Green Jackets, which took all my spare time for the next fifteen years."
Business now is the College of Petroleum and Energy Studies, based in Oxford, where Ian is Founder/Director, and for the last five years he has been competing in trials again, this time in Vintage and Classic car trials with a historic 1935 MG 'Cream Cracker' works car, a car with a 60 year continuous history. Ian has won the MG annual Trials Championship (the Slade Trophy) three times with JB 7521. Sometimes the hazards bring back memories.
"We were in the 1998 MCC 'Edinburgh' trial, (though it does not go to Edinburgh any more). In Derbyshire the route card showed a section called 'Swan Rake' and it turned out to be Hollinsclough! I asked them if they were seriously considering putting 200 cars up there and they were. There was no room to manoeuvre and we bounced from rock to rock. Forty years later and I'm climbing Hollinsclough again, it was a great feeling! There's another story from that area, this time from the 1962 Clayton trial, when it started from Brierlow Bar. Johnny Roberts and I were sitting on our bikes in our rather scruffy Barbour gear when this immaculate Humber drew in, towing a shiny aluminium trailer with a new Greeves on it. The young man who was to ride the bike was in the back seat of the car behind his parents.
"Johnny turned to me and said 'They don't enjoy it the same, you know!' "Looking back, I would not have swapped those trialling days for anything".
Bob Light/Ian Williamson, Summer 1999